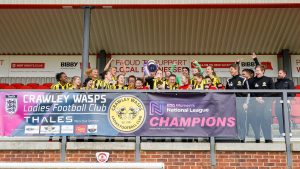 Crawley Wasps LFC
Crawley Carpet Warehouse are proud sponsors of Crawley Wasps Ladies FC Women National League Champions 2018-2019. 
Photo: Ben Davidson, www.bendavidsonphotography.com – Crawley Wasps LFC vs Enfield Town 1-0 2019 on April 14, 2019 at Wothing Town FC, Worthing.
Latest Games
Crawley Wasps 0 – 4 Arsenal
Crawley Wasps' Women's FA Cup run was ended by the professionals of Arsenal on Sunday – but they won many admirers in keeping the score respectable in front of a stunning crowd of 1,550.
Although the injury-hit Gunners made six changes from their 3-0 win over Reading in the Women's Super League, their starting XI still included seven internationals – including their captain, Scotland's Kim Little, and Netherlands midfielder Danielle van de Donk.
Wasps, meanwhile, were missing ex-Wales winger Emma Plewa through injury but were able to call on former England youth internationals Naomi Cole and Charlotte Young.
Arsenal dominated territory and possession but in the first half they were mostly repelled by an industrious Wasps, with Young and centre-back partner Darcey James excelling.
It took 17 minutes for the Gunners to break through as they capitalised on a rare defensive error, Katie McCabe feeding Little, who drilled into the bottom left-hand corner.
But if the crowd at Tinsley Lane – more than double that which saw Brighton play Manchester United at Crawley Town earlier in the day – feared the floodgates would open, Wasps proved them wrong with some snappy work in midfield and crisp passing football on the break.
However they were undone again just before the break as Denmark winger Katrine Veje sped past Niamh Stephenson and laid the ball across for 16-year-old Ruby Grant, who fired home.
Arsenal replaced Little at half-time with England midfielder Leah Williamson, and the Gunners created more chances – Wasps keeper Frankie Gibbs twice denying Veje.
Kemina Webber's introduction for Wasps did give Arsenal's defence more to think about, but Grant grabbed her second and the visitors' third after being played in by Ava Kuyken.
Wasps had a great chance to score the goal their hard work merited when Faye Rabson skipped clear, but the experienced Sari Van Veenendaal stood up well to block her shot.
And teenager Grant completed her hat-trick late on – but the result was always secondary to the valiant performance and the outstanding crowd on the biggest day in Wasps' history.
Wasps: Gibbs; Niamh Stephenson, Young, James, Palmer; Drury (Russell 66), Cole; Fleischman (Webber 60), Stow, Rabson; Heather (Davies 90). Subs not used: Graves, Measures, Ward, Woollard.
Arsenal: Van Veenendaal; Dawbarn, Quinn, Arnth, McCabe (Albuquerque 62); Van de Donk (Hazard 62), Little (Williamson 46), Grant; Filis, Kuyken, Veje. Subs not used: Peyraud-Magnin, Mead.
Next Fixture
AFC Wimbledon v Crawley Wasps   :   Wednesday 13th Februaryy 2019 –  Kick-Off at 19:45
About Crawley Wasps
Founded in 1991, Crawley Wasps have been instrumental in the successful development of girls' football in the Crawley area. From the early days of playing seven-a-side in various Surrey leagues, the club have expanded to more than 100 playing members in teams at all levels from Under-11s to three Ladies sides.
Wasps have helped pioneer the development of ladies and girls' football in Sussex by becoming a founding member of the Sussex County Women and Girls' Football League in 2002-03.
Between May 2013 and May 2018, as they progressed from Under-11s to Under-16s, one Wasps team lost just three of 70 matches against girls teams – their dominance was such that they tested themselves in a boys' league in 2016-17.
In the 2015-16 season, three of the club's teams – the Ladies' first team, Ladies reserves and that all-conquering Under-14s – reached their respective County Cup finals.
The club celebrated its 25th anniversary season, in 2016-17, in style both on and off the pitch. Thales, one of Crawley's largest employers, became Wasps' first-ever main club sponsor, while the Ladies' first team again reached the Sussex Cup final and also the League Cup final.
In 2017-18, Wasps' first team earned a historic promotion to the FA Women's National League, going unbeaten as they won the London & South East Premier Division, while reaching two more cup finals.
For more information
Andrew Raeburn
Crawley Wasps LFC publicity co-ordinator
07731 575536
Past Reports
Coventry United 1 – 2 Crawley Wasps
Darcey James's injury-time winner saw Crawley Wasps stun higher-division Coventry United on Sunday and book a history-making tie with Arsenal in the Women's FA Cup fourth round.
As extra-time loomed, centre-back James nodded in Naomi Cole's corner to spark celebrations – but victory was only confirmed after goalline clearances from Ariana Fleischman and Niamh Stephenson.
| | |
| --- | --- |
| | Darcey James, pictured right doing her defensive duties, proved the match-winner for Crawley Wasps at Coventry |
It means Wasps have won all 18 games this season in all competitions – and now face the Women's Super League leaders.
After a low-quality first 20 minutes, on a bumpy surface, Coventry – the unbeaten leaders of the FA Women's National League Southern Premier – went in front as a cross from the right was swept home by Amber Hughes.
But Wasps hit back immediately, Faye Rabson touching Stephenson's cross into the path of Fleischman, who lashed into the far corner. Naomi Cole then fizzed a shot inches wide.
Paul Walker's side had to dig deep in the second half as Coventry pressed but Wasps were always a threat on the counter, with Megan Stow curling an effort against the upright.
Coventry went even closer as a hooked shot smacked against the underside of the bar, while only an outstanding tackle from Charlotte Young denied the hosts an 89th minute opportunity.
That proved to be a match-saver as James headed in – and the reward will come on February 3.
Wasps: Gibbs; Niamh Stephenson, Young, James, Palmer; Drury (Davies 84), Cole; Fleischman, Stow, Rabson; Heather. Subs not used: Graves, Measures, Russell, C. Carter.
A second-half goal from Rosanne Fine saw Crawley Wasps reserves beat Newhaven 1-0 to remain top of the South East Counties Premier Division.
But they were helped by the visitors missing two penalties – the first flew over, while the second was saved by Wasps keeper Leah Samain.
And the new Wasps third team – made up of nine of the club's ultra-successful Under-18s, plus two senior reserves – beat Hollington United 12-0 on their Sussex Women's League debut.
The 'elder stateswomen' Charlotte Barnham and Amy Clark both scored hat-tricks, as did teenager Ellie Livingstone, while Chloe Bosher, Amy Hunt and Chanelle Gainsford chipped in too.
Crawley Wasps LFC Reserves 9 – 0 Milford & Witley
Seven different players scored as Crawley Wasps' reserves beat lower-division Milford & Witley 9-0 in the South East Counties League Cup on Sunday.
| | |
| --- | --- |
| | Millie Carter – signed earlier this season from Portsmouth – created the first three goals. She first crossed for Amy Woollard to head in the opener and then set up Toni Smith for the second, before finding experienced left-back Michelle Ward for a rare goal. |
Wasps added two more before half time. Nicholle Smith's centre was nodded down by Woollard into the path of centre-back Jess Rippin, who scored after her first two efforts were blocked, before Carter drilled in from the edge of the box.
Another set-piece – this time from Natalie Stephenson – found Suzanne Davies at the far post to make it 7-0.
Davies and Carter rounded things off as Wasps set up a trip to divisional rivals Ashford in round two.
Wasps reserves: Samain; Richards, Duncan, Russell, Ward; Davies, Natalie Stephenson, T. Smith, Woollard; M. Carter, Woollard. Subs: Rippin, Barnham, N. Smith, Martin.
Eastbourne Ladies 0 – 4 Crawley Wasps LFC
A much-changed Crawley Wasps side booked their place in the Sussex Women's Challenge Cup quarter-finals on Sunday with a 4-0 win at Eastbourne LFC.
Ariana Fleischman scored twice, with Suzanne Davies and Jenny Drury also on target, as Wasps secured their 11th consecutive victory in all competitions this season.
Playing against opposition from two leagues below – Eastbourne are in the same division as Wasps' reserves – the opportunity was taken to rest many of the first-team regulars who have taken the club to the top of the FA Women's National League Division One South East.
| | |
| --- | --- |
| | Reserves and Under-18s goalkeeper Lauren Graves, 17, was handed her competitive debut, as were two recent signings from Portsmouth – defender Ellie Russell, 21, and midfielder Millie Carter, 18, the latter from the bench. |
Davies, a Wasps stalwart who has largely been used as a substitute this term, made the most of a rare start by opening the scoring from Charlie Carter's ball.
American midfielder Fleischman doubled the lead before the break and then netted again in the second half, with an effort from the edge of the box.
Substitute Drury got her first goal of the season when she headed in a corner as Wasps eased into a last-eight tie against lower-league Saltdean.
Wasps are back at home in the league this Sunday when they host Luton Town at Tinsley Lane, Oakwood (2pm kick-off).
Wasps: Graves; Measures, Cole, Russell, Ward; C. Carter, Stow; Woollard, Fleischman, Davies; Webber. Subs: Drury, M. Carter, Heather.