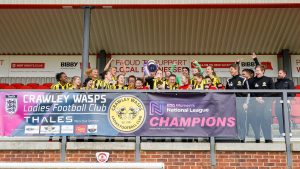 Crawley Wasps LFC
Crawley Carpet Warehouse are proud sponsors of Crawley Wasps Ladies FC Women National League Champions 2018-2019. 
Photo: Ben Davidson, www.bendavidsonphotography.com – Crawley Wasps LFC vs Enfield Town 1-0 2019 on April 14, 2019 at Wothing Town FC, Worthing.
About Crawley Wasps
Founded in 1991, Crawley Wasps have been instrumental in the successful development of girls' football in the Crawley area. From the early days of playing seven-a-side in various Surrey leagues, the club have expanded to more than 100 playing members in teams at all levels from Under-11s to three Ladies sides.
Wasps have helped pioneer the development of ladies and girls' football in Sussex by becoming a founding member of the Sussex County Women and Girls' Football League in 2002-03.
Between May 2013 and May 2018, as they progressed from Under-11s to Under-16s, one Wasps team lost just three of 70 matches against girls teams – their dominance was such that they tested themselves in a boys' league in 2016-17.
In the 2015-16 season, three of the club's teams – the Ladies' first team, Ladies reserves and that all-conquering Under-14s – reached their respective County Cup finals.
The club celebrated its 25th anniversary season, in 2016-17, in style both on and off the pitch. Thales, one of Crawley's largest employers, became Wasps' first-ever main club sponsor, while the Ladies' first team again reached the Sussex Cup final and also the League Cup final.
In 2017-18, Wasps' first team earned a historic promotion to the FA Women's National League, going unbeaten as they won the London & South East Premier Division, while reaching two more cup finals.
For more information
Andrew Raeburn
Crawley Wasps LFC publicity co-ordinator
07731 575536
Crawley Carpet Warehouse Supports Crawley Wasps
Members of Crawley Carpet Warehouse in pictures with Crawley Wasps showing support and sponsorship.